The GWX Control Panel is a widely-used tool, which you can use for removing and disabling the "Get Windows 10" notification area icon on your Windows system. It works on Windows 7, 8, and a recent version of gwx control panel can also disable Upgrade to Windows 10.
Nowadays, there are more and more Windows users who refuse to be a part of the upgrade for a few reasons. There has been a lot of attempts adopted by IT specialists to prevent this Windows upgrade. The most significant majority of programs could not get the same success as the GWX program did.
The program entitled GWX Control Panel is designed or users of Windows to terminate the recurrently appearing "Get Windows 10" icon. Use the program if you want to prohibit the Windows Update from being automatically downloaded and installed on your computer by default. Additionally, you will discover a lot of other things GWX Control Panel is capable of doing.
Also read: IP Helper "IPHLPSVC" Services. Win10
Below, you will find a list of how you can use GWX Control Panel:
By using GWX Control Panel, you will abolish Get Windows 10 app appearing on the taskbar.
The program can easily obstruct the Windows Update directly on your Control Panel results. There will be no automatic upgradations of the machine.
Your machine will be obstructed by GWX Control Panel from confidentially downloading the installation files, which mainly concern Windows 10.
Users can easily recognize and remove already existing installation files of Windows 10. Your machine will work faster in the result because you will clear off a lot of free space.
The program can scan your computer for the other settings and unwanted Windows 10 files.
Also read: ILIFE V5S Pro Review
How to Prevent Automatic Upgrading to Windows 10 Using With GWX Control Panel?
Now you know what GWX Control Panel is and all its abilities. It is time to see how you can prevent unwanted automatic upgrading. Follow the steps below:
Make sure that you have the most recent version of GWX Control Panel. Choose one of these options:
a) The installer, which is the setup which can easily install GWX Control Panel on your computer. It will plant many useful shortcuts on your PC desktop together with the Start Menu.
b) By choosing the second option, you will refer to Stand-alone, which is the <GWX_control_panel.exe> file, which has no installer.
You must run the program. In the very beginning, you will receive the license terms, which is the mandatory task. In order to conduct the following conditions, you will need to press on "Continue" and proceed to the next step.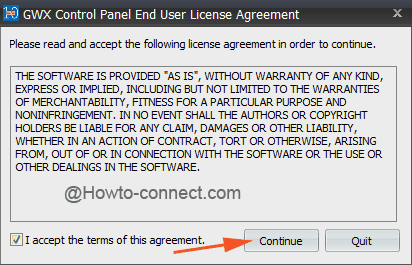 Once you have agreed to the mandatory license terms of GWX Control Panel, you will be redirected to the main interface of the program.
In front of you, there is a list of comprising buttons, which you must use for setting the program according to your needs and managing the files, which are associated with Windows. The program will discover such data automatically on your computer.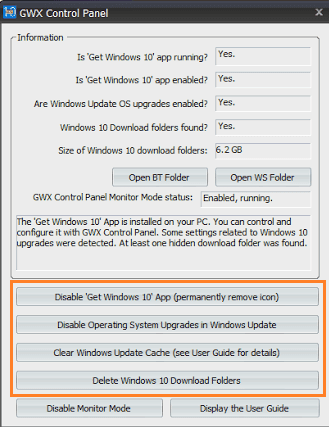 If you want to abolish the "Get Windows 10" app symbol, which prompts you over the taskbar region, you will need to press the "Disable Get Windows 10" app button on GWX Control Panel interface.
Remain on the main GWX control panel interface for executing a tap on the long button, which is placed around the middle area with the words "Disable Operating System Upgrades in Windows Update." As a result, your machine will find itself incompetent for the Windows Upgradation.
You can be sure that the program can detect the main directories presenting anywhere in which Windows 10 files can be accumulated in your computer. Use the button "Delete Windows 10 Download Folders."
Also read:Windows Modules Installer Worker High CPU Usage (Solution)
Conclusion
The GWX Control Panel is a pretty lightweight but very efficient program when it comes to executing the program. It never does any additional script with your computer. Use it to have complete control on updates of Windows.