Many Windows owners has been tried Chrome web browser. And many of them stick to it because it's great browser with many great functions. And compared to Firefox, Edge or Opera it's lightweight and very fast! Chrome also provides built-in tools such as PDF viewer.  There is no doubt that everyone who uses Chrome as his primary web browser also uses Google Chrome PDF Viewer. For example many Android devices users use Chrome on mobile device and can open PDF files  directly with out any other APP. But if you are using Google Chrome PDF Viewer via Windows 10 then sometimes you need to edit something and then we come to a point then we need to use other application for this job. So today we will explain how to disable chrome PDF viewer. Many Chrome browser users all around the world complains that there is no option for "Open PDFs using a different application'." So this simple tutorial will help you Disable Google Chrome PDF Viewer and use any other PDF application you want.
How to Check Chrome Browser Version
The way we can disable Chrome browser built-in tools like PDF viewer will only depends on the version of Chrome version you have on your device.  So first of all we need to check out Chrome version you have on your computer, to do this please follow this procedure:
Open Chrome web browser and click on the 3 dot menu on the right screen corner.
Please choose 'Help' and then just select 'About Google Chrome' section like shown in a picture below:

Now you can see the Chrome browser version number you have installed on your device.

How to Disable Google Chrome PDF Viewer
Disable Google Chrome PDF Viewer (In Chrome Version 76 On-wards)
If you have Chrome browser version 76 , when you can choose what to do with PDF files. Either you can open them with Chrome built-in PDF viewer or you can just download PDF file and open with other program. Just keep in mind there is no option to disable built in pdf viewer or choose other program as default to open PDF files. If you want not to open file with chrome pdf viewer and download the file directly you need to follow these steps:
1. First of all open Chrome web browser.
2. Now please click on the 3 dot menu on right corner side.
3. And choose Settings tab.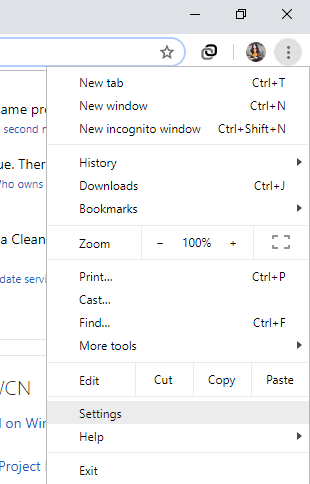 4. On new window please scroll down and at the page bottom you will see Advanced tab.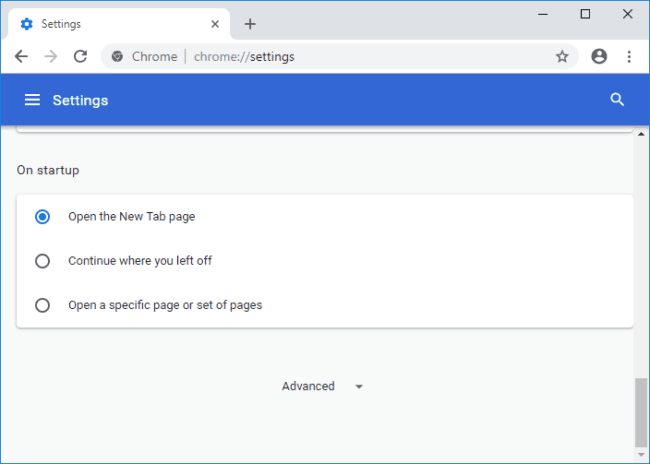 5. Search for the 'Privacy and Security' tab and then expand 'Content Settings' tab.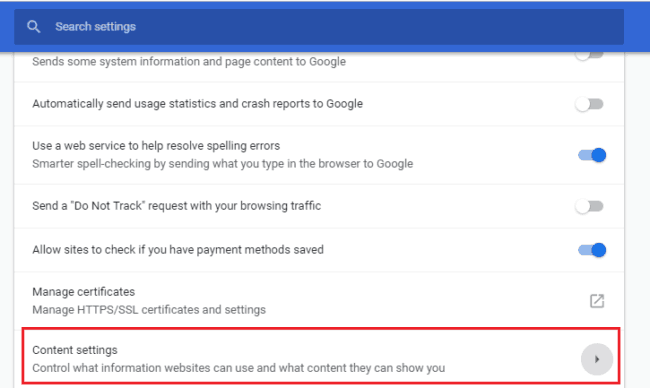 6. Now just scroll down to the bottom of settings page and search for 'PDF documents'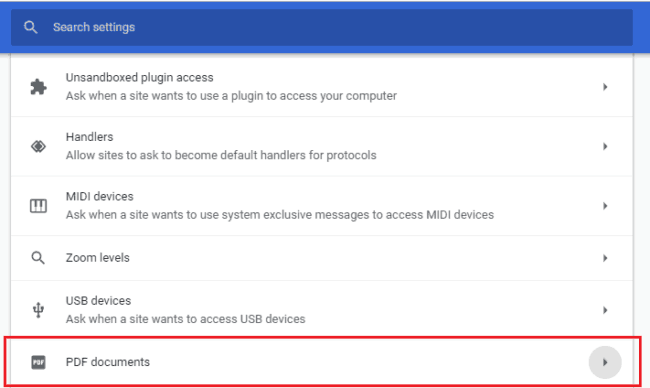 7. Here you can choose what you want to do with PDF files.  You can toggle the blue button and Enable automaticaly PDF download instead of opening: 'Download PDF files instead of automatically opening them in Chrome'.

And now all PDF files will be automatically downloaded to your device instead of opening in Chrome pdf viewer. So you will be able to open them with any another PDF viewer. For example with Acrobat reader ( Acrobat reader is the most popular tool for PDF file reading and editing). So if you want to set Acrobat reader as Your default PDF viewer application you need to follow some simple steps:
1. Search for any recently downloaded PDF files you have on your computer. And push right mouse button.

2. Then select the option 'Open with' and just select 'Choose another app' like shown in a picture below: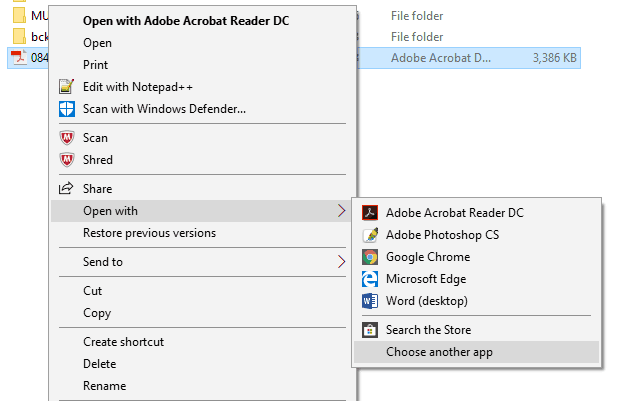 3. Now you can select any PDF viewer you want  as your default PDF file viewer.
4. Check the 'Always use this app to open pdf files' checkbox and all your PDF files will be opening by this application by default.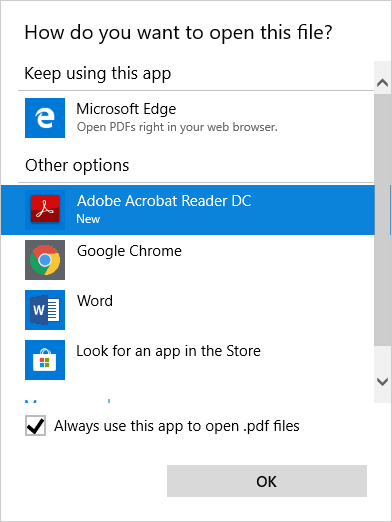 5. Push OK button.
6. Now Your default PDF application has been selected.
Also read: How To Fix Error Code DNS_PROBE_FINISHED_NXDOMAIN
Disable Google Chrome PDF Viewer (In older versions)
If you have older version of  Chrome web browser and want to disable PDF viewer please follow this instruction:
First like always please open Chrome.
In the URL address bar, please type: about:plugins.
This will open all plugins page.
Here please search for Chrome PDF viewer and please click on disable under 'Chrome PDF viewer'.
That's it your default Built-in Chrome PDF viewer has been disabled.
Conclusion
I hope this article was useful and method we have explained here will work for you. As you can see from our article Disable Google Chrome PDF Viewer is easy thing. But for me I always prefer built in Chrome PDF viewer because it's light weight and working very fast, so if you just looking for example invoices you get or similar stuff this application is the best choice!
If you have still any questions about Chrome PDF viewer or any other questions regarding best PDF viewer or editor don't hesitate to ask us more in comment's section below. And for sure if you liked this or any other our article please spread the info with your friends on social media 😉