Wearable are among some of the most trending technological evolution. In recent years, wearable devices, including smartwatches and fitness bands, have become part of the norm. A famous sector in wearables is healthcare.
As time passes, people are becoming more conscious about their health and are willing to take measures that solve their healthcare concerns. Since technology and science have marketed its steps in every sector of life, healthcare cannot be eliminated. In fact, people are willing to make the use of the latest technology to improve health and lifestyle and save more lives.
In this blog, I have accumulated a brief history and the prospects of wearable technology in the near future. Let's have a deeper look.
How Did Wearables look like in the past?
If we take a look at the past regarding wearable technology, we can say that wristwatch and eyeglasses were the pioneers of wearable technology. The purpose and uses have, however, modifies to a considerable extent. There are also discoveries of abacus rings in China.
Later on, there were better improvements and inventions that lead to a great transformation for a future technological revolution in wearables. The world then witnessed the inventions of wearable calculators, computers, and listening devices. Earphones become common in the 1980s, and we can say that it was a noticeable change and a beginning for wearable technology.
Moving on to 2002, The world finally got aware of Bluetooth technology that allowed us using wireless wearable devices.  These days, we see many custom software development introduce smartwatches and fitness bands that may or may not be connected with mobile apps.
Also read: How to Disable Google Chrome PDF Viewer
The current wearable trends dominate smartwatches, eye wears, and fitness bands. Moreover, if we look into the healthcare and hospital sector, there are a number of smart wearable devices that are contributing to monitor, analyze and treat diseases. The healthcare sector includes monitoring wearable devices that can detect diseases like seizures. We see a great uplift in the growth of the wearable industry, and many software development companies are determined to take charge.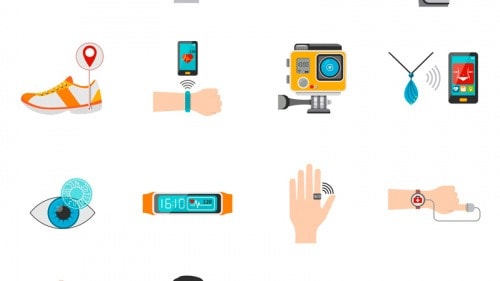 The Future of Wearable Technology
As we see a considerable surge in the wearable industry in recent years, the future of wearable is bright. It can be estimated that in the future, the only technology smartphones in the consumer electronics industry defeating wearables can be smartphones.
The future growth span for Wearables is vast. Further, wearable devices connected with add-ons like VR headbands are all set to fulfill the bespoke needs of users.
Also read: How to fix Google Chrome not opening on Windows 10
 No wonder, a sweater brand introduces a smart sweater that adjusts the temperature according to the surrounding temperature.
CNBC reported that according to new forecasts by market research firm Euromonitor, wearables are all set to become one of the best-selling consumer electronics products after mobile phones.
Moreover, there is a great surge in the sales of wearable technology with an estimated projection of 305 million excessive units in 2020. It makes a total compound annual growth of 55 percent for the next 5 years.
In another report, Euromonitor estimated that every other electronics like televisions, laptops will be dominated by the sales of wearables while only smartphones will be dominating the wearable sales projection to achieve 1.6 billion units' sales in 2020.
The wearable market is powered by two main categories including basic wearables and Autonomous wearables, which include smartwatches and the Google Glass
In the near future, fitness will take charge of the wearable market.  Devices that track your progress will improve and become even more important and popular. It looks like we will input our biological data and the wearable will create bespoke programs to improve fitness.
Also read: What is idp.generic | Virus or False Positive?
Another prominent sector that is all set to make advancements in the healthcare sector. We believe that in the near future, healthcare wearables will be able to monitor a vast kind of diseases and other health care issues. This is what compelling healthcare industries to invest a huge fund in leveraging this technology and making awe-inspiring development in the upcoming years.
It seems like a favorable situation for wearable software development companies. To keep the wearable tech trends progressing, tech-oriented minds and business will keep on innovating and developing improved ideas for the future of this growing industry.