The "Your Organization's Data Cannot Be Pasted Here" error can be a common frustration when attempting to copy and paste data across various applications, especially in the Microsoft Office ecosystem. Whether you encounter this issue on your Windows computer or mobile device, this comprehensive guide will walk you through the causes of the error and provide step-by-step solutions for a hassle-free experience.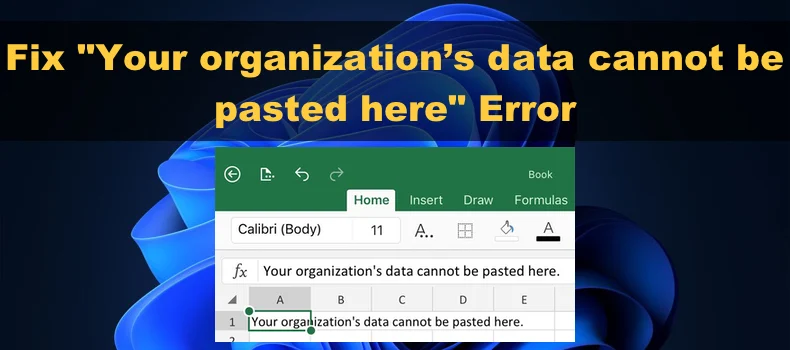 Understanding the Error:
This error typically arises when copying corporate content from Outlook or other managed apps.
In some cases, it may be due to temporary software glitches, but often, it's a security measure related to Microsoft Intune Policy Management.
Why Does the Error Occur?
Microsoft Intune Policy Management, designed to prevent unauthorized data copying, often triggers this error.
It restricts copying and pasting from Outlook to unapproved applications for security reasons.
Android users can also face this error, which may be resolved by long-pressing the screen area where you wish to paste data and selecting "Paste.
Troubleshooting Steps:
Step 1: Modify the Intune Application Protection Policy
Organizations use Microsoft Intune app protection policies to control data transfer on company devices.
Administrative access is required to make changes.

Sign in to your Microsoft Intune dashboard.
Access "App protection policies."
Edit an existing policy or create a new one.
In the "Data Transfer" section, set "Restrict cut, copy, and paste between other apps" to "Any app."
Save changes and restart your device if necessary.
Step 2: Reboot Your Computer
Sometimes, the Office app may become unresponsive, causing data copy issues.
Save your work, close the Office application, and reboot your computer.
Remember to back up your files before doing so.
Also read: Download IEEE Papers Free
Step 3: Update the Microsoft Office Suite
Outdated or buggy Office applications can trigger this error.
Keep your Office applications up-to-date using these steps:

Open an Office application.
Go to the "File" tab and select "Account."
Expand the "Update Options" drop-down and choose "Update Now."
Follow the prompts to complete the update.
Step 4: Paste Into a Different File or Document
In some instances, the error is specific to a particular file.
Test if you can paste the copied data into a new document.
If successful, the original file may be corrupt.
Step 5: Enable Editing on the File
Files downloaded from the internet may open in "Protected View," preventing editing.
Click "Enable Editing" to allow modifications.
Ensure you have the necessary authorization for copy and paste actions.
Also read:  What is com.wssyncmldm
Additional Tips:
Android users can resolve the issue by long-pressing the screen and selecting "Paste" when attempting to paste data.
Gboard users may see a "Your data cannot be put here" message, often a recommendation rather than an error.
Conclusion
By following these step-by-step solutions, you can effectively tackle the "Your Organization's Data Cannot Be Pasted Here" error. Whether you're using Windows or a mobile device, these methods will help you regain smooth data copying and pasting functionality across your applications. If the issue persists, don't hesitate to seek assistance from your system administrator for further support. Enjoy seamless data management without the frustrating error messages!