Online grammar checking tools are the best tools for blogger or writer. With Ginger Software or any other Ginger Software Alternatives you can quickly correct the grammar and spelling mistakes. Both businesses people and individuals need grammar and punctuation checker tools to help them in the tasks. The software doing a grammar check also corrects sentences and helps write as good English as it can be. It uses various tools to correct misused words, spelling mistakes, and grammar errors accurately. Also in time it will help you to understand all basics of English language. The Ginger software not only pinpoints the errors but also suggest suitable corrections to make the text perfect. The writers can improve the quality of their content with the help of grammar checker tools.
There is a number of grammar checker software available. So how would you decide which one to choose? First, understand the key features of the product and try to know about it with a free trial. Most of the leading vendors offer a free trial like WhiteSmoke, Grammarly, Ginger, LanguageTool, etc.
Types of Grammar Checker Software
There are many free and open source grammar checker tools.
Many word processing programs like Microsoft Word and WordPerfect already include a built-in grammar checker tool.
Many websites offer online grammar checking services.
Benefits of Grammar Checker Software
Find and correct grammar and spelling mistakes thus enhancing the quality of the text
Makes the content error-free by eliminating mistakes
Do free grammar check and proofreading
Those who are not English language experts can also create high-quality content with the help of software
Enable companies to enhance the quality of their website content and other business text and ensure they are error-free
We often use Ginger software for this purpose. No doubt Ginger is great online software available but it has its own flaws. It highlights the grammar and spelling mistakes but not punctuation errors. Let's take a look at some of the best grammar checking software available:
1Checker
1Checker is a free proofreading app. It has various tools which help perfect the English texts. It is a spelling checker, grammar checker, style reviewer, has a vocabulary enrichment tool (which is basically a thesaurus), dictionary and translation tool all in one. The interface is designed in such a way to make it look simple and easy to use.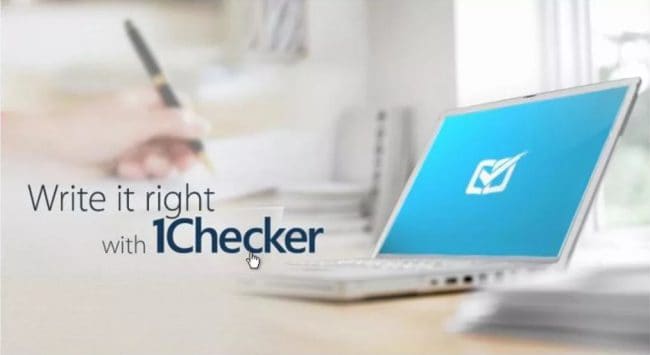 Simply open the document within it or paste text, and 1Checker will highlight the errors. You can either apply all changes in a click or just apply those that you want to keep.
Features
Several grammatical tools in one
Checks documents Instantly
Auto or manual correct
Available free of charge
Grammarly
Grammarly is the world's best known free grammar checker and offers a lot of features. This tool is a widely used grammar and punctuation checking tool and has nice browser integration for Chrome. It is a perfect proofreader and offers extreme veracity in terms of grammar, punctuation, and spelling. Grammarly software will find and then correct the grammar mistakes, gives vocabulary suggestions and also checks the text for plagiarism. Grammarly login page will ask for your login details username and password.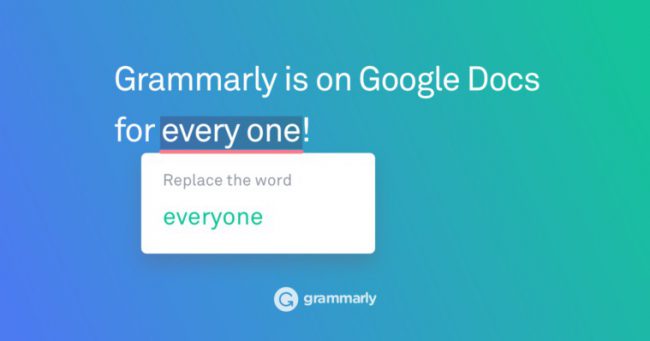 We can work in two ways with Grammarly premium free tool, either get the Chrome plugin (Grammarly Chrome) or using the web app itself. It works with every type of text input field and can be used in Gmail, social media (Facebook, Twitter), and forums and even when writing comments on other blogs. Grammarly for word and other applications are also available. Grammarly reviews across the social media sites suggest that it is extremely popular software.
Features
Instantly find and correct over 250 types of grammar mistakes
Contextual spellchecker
Improve word choice with context-optimized vocabulary suggestions
Advanced proofreading. Looks for word repetition and other things
MS Word and MS Outlook plugins available
Google Chrome plugin available
Plagiarism detection by checking text against over eight billion web pages
Pricing
Grammarly is available for free to all its users with the basic feature for critical grammar and spelling checks. You can avail a Grammarly discount if you buy coupons. Three premium plans are offered:
Monthly – $29.95/month
Quarterly – $19.98/month
Annual – $11.66/month
Language Tool
Language Tool is a free proofreading tool which makes it suitable for all kinds of businesses and freelancers to use it without any big trouble. It is an open source online grammar checker that quickly and accurately detects and rectifies contextual and grammatical errors in the documents.
Language Tool supports more than 20 languages including French, Polish, Spanish, German and Russian. It has the distinct ability to make distinctions between American and British English.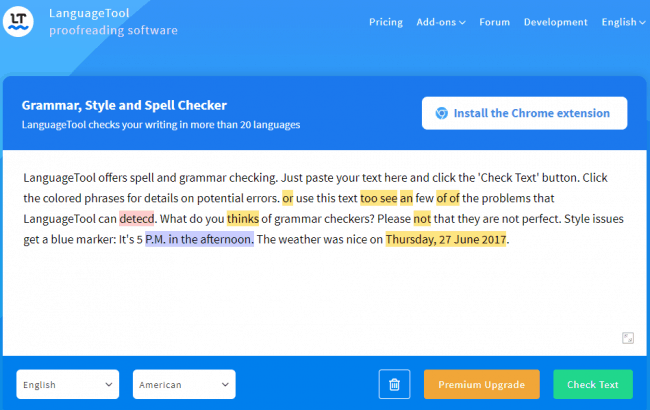 The app is easy to use and can be embedded to Google Chrome, Google Docs, Mozilla Firefox, Libre Office or Microsoft Word as an extension. It comes with a personal dictionary, which can be updated by the users with commonly used terms if they want to. There are keyboard shortcuts which help make the documents writing and editing faster. Also, the users find it very easy to proofread their documents.
Features
Detect and correct contextual and grammatical mistakes
Scan for text errors in more than 20 languages
Distinguish between American and British English
Embed easily with Google Chrome, Google Docs, and other third-party apps
Offer keyboard shortcuts
Provide users with a personal dictionary
Suggest document corrections
Pricing
It offers a free trial. Then you have the premium and enterprise pricing plans to choose from. The Premium plan comes at €19/month.
WhiteSmoke
WhiteSmoke can be used for desktop, web, and mobile. It has natural language processing and utilizes artificial intelligence and algorithms to analyze texts. WhiteSmoke works best on Windows computers and MacBooks. It has advanced checking tools which assure users that their academic and professional writings are free of errors when it comes to grammar, spelling, punctuation, and even writing style.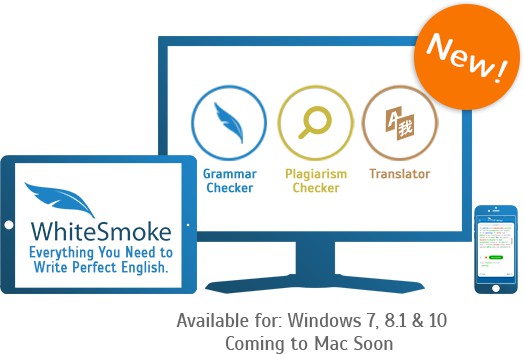 You can make corrections while writing on the browsers. This saves time copying and pasting text from text editing programs and allows immediate posting or sending what they are writing on the web.
WhiteSmoke is also available for iOS and Android devices so you have perfect grammar on your mobile only. The translator can translate more than 50 languages on the go, enabling users to learn foreign languages and communicate using them wherever they are.
The users can access more than 100 templates for documents and letters. There are also video tutorials and error explanations for users to better understand why the program corrects certain mistakes in such a way.
Features
Grammar Checker
Spell Checker
Style Checker
Punctuation Checker
Translator & Dictionary
Video Tutorials
Error Explanations
Text Enrichment
Document & Letter Templates
Pricing
It doesn't provide a free trial. Following are the available plans:
Essential – $9.95/month, $79.95/annual billing, $159.95/3-year plan
Premium – $14.95/month, $119.95/annual billing, $299.95/3-year plan
Mobile App (can be purchased with plans)

Monthly – $2.50
Yearly – $9.95
3-Year Plan – $30.00
ProWritingAid
ProWritingAid is great at finding repetition and structure problems in sentences. In fact, it is a great tool for student writers. It highlights the grammar and punctuation errors, spelling mistakes, plagiarized content, and contextual errors. ProWritingAid provides feedback which greatly helps in improving the writing assignments.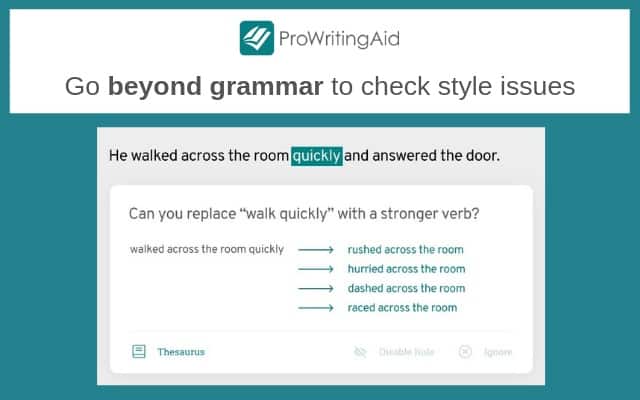 Features
Grammar Checker
Spelling Checker
Detailed Explanations
Find Repeated Words
Context Sensitive Style Suggestions
Word Explorer
Contextual Thesaurus Report
Visualize Sentence Lengths and Variation
In-Depth Reports
Mac and Windows Support
Time-saving Integrations
Plagiarism Checker (for premium plans)
Pricing
The free trial version is available. The paid plans are:
ProWritingAid Premium at $40/year
ProWritingAid Premium PLUS at $45/year
Academic and Bulk Pricing are determined by quote
Typely
Typely is a complete writing environment and not just a proofreading tool. It is available to use free. You can rely on its findings and the company is considering adding some advanced features which will be available under a premium plan. The only limit with Typely is the number of characters which can be submitted and that is set at a maximum of 50,000.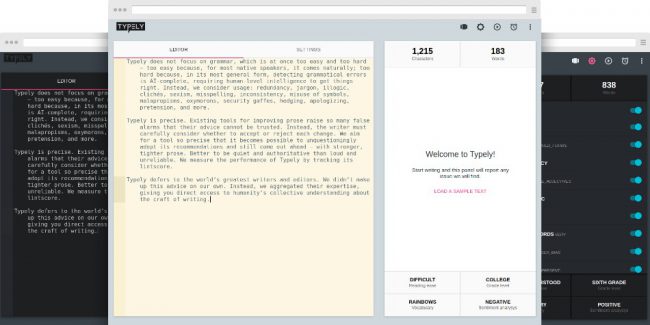 Typely does not do grammar checking. Its only aim is to be precise and reliable. It's quite easy to set up and provides a free open platform which everyone can use and carry out proofreading and editing of their content.
Features
Free-for-all online proofreading platform
Can be relied on completely
Fast and easy to use
Conclusion
Ginger Software is a solid product pricing at $29.96. It's a true challenge to decide on a reliable and at the same time affordable grammar checker software which meets all the criteria. Analyze the different Ginger software alternatives we have mentioned carefully depending upon your requirements such as cost, quality of client support, supported mobile devices and offered integration's.