Firefox is one of the commonly known and popular web browsers after Google Chrome. Mozilla releases its web browser updates regularly and sometimes after the upgrade it also becomes incompatible with the operating systems. This is mainly due to its newly added features or due to some pre-installed programs.
The most irritating message that appears in such a situation is "Couldn't load XPCOM"
You might have tried to fix this error by running various virus scans, removing junk files by clearing cache and also performing a system reboot. But you may have noticed that none of these attempts is helpful while fixing the error.
Ways  to Fix Firefox Couldn't Load XPCOM error
Method 1. 
 Close Couldn't load XPCOM error message, open another browser like Internet Explorer or Google Chrome 
Download
 the latest version of Mozilla Firefox and upgrade to newer version.
After the complete upgrade, you may be able to run Firefox as usual.
Method 2: Complete Uninstall and Re-install of Firefox
Method 1 may not work for everyone because upgrading to the new version may not remove the root cause to this problem, if above method works then great, if not you need to completely uninstall Firefox and re-install to the newest version in order to get this problem fixed.
Complete Uninstall means you need to remove everything related to Firefox from your computer like –
Uninstalling Firefox
Remove Registry entries
Remove from Program files
Delete entries from AppData folder
Deleting from Program data Folder
All above task is going to tedious, especially removing entries from the registry, since I don't recommend playing with Registry Editor, deleting the wrong registry keys may lead to other errors or complete system failure.
So Download and install Iobit Uninstaller and uninstall Firefox using Uninstaller, also perform Powerful Scan which finds all registry entries and leftovers of Firefox, select all leftover items and delete them.
After Uninstalling Firefox by Iobit Uninstaller, you need to delete one more folder from AppData.
Press Win+R button it will open Run dialog box, type %appdata%  in it and hit enter.
It will open the Roaming folder find and delete Mozilla folder.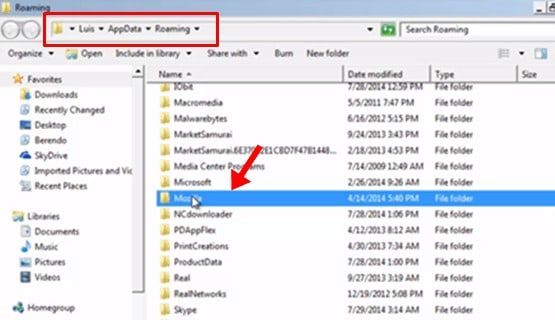 Firefox is now completely removed from your computer, now Download Latest version of Firefox using another browser and install it, you would be able to open and browse the internet on Firefox without any error.
This error is more likely to cause by some kind of malware which mess with Mozilla Firefox, it is recommended to Scan your computer for possible malware using any good Antivirus program.