Singaporeans are always looking for affordable products that are high in quality. Not only must the product be of good value, but it should also go easy on one's wallet. Here are some affordable wireless mouse that fit both these criteria perfectly. These products are suitable for casual gamers, professionals, and students.
Logitech M187 Wireless Mini Mouse
At a mere $15.90, this cute and compact wireless mouse has all the features you need to man your laptop or desktop computer. It is an affordable wireless mouse and it comes with 1 AAA battery which can last up to 18 months and is suitable for Windows and Mac computers. The laser tracking sensor ensures responsive cursor control on most surfaces. Users can connect the device to a laptop, desktop, or smart TV wirelessly and enjoy up to a 10-meter wireless range.
Logitech M325 Wireless Mouse with Designed-for-Web Scrolling
This is another affordable option from Logitech that is fitted with "designed for web scrolling". This means users will be able to breeze through long Web pages with the help of a smoother scroll wheel. The affordable wireless mouse from Logitech is equipped with 2 AAA batteries which can last up to 18 months and it only costs $22.90.It is designed to work on almost any surface and will glide effortlessly.
Qisan Wireless Nano Mouse
At less than $9, this wireless mouse from Qisan is one of the most affordable options out there. Despite its low price tag, users can still expect a decent gaming experience as it comes with an 800dpi optical sensor which ensures accurate tracking and gameplay. The design is ergonomically-friendly and fits comfortably in one's hand.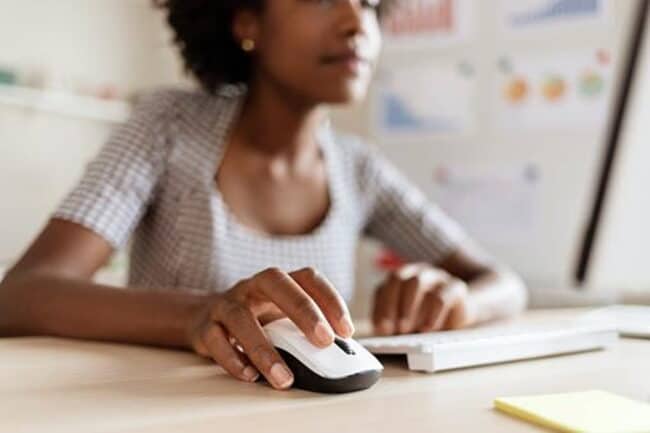 Microsoft Sculpt Touch Mouse
At $24.90, this mouse provides users with an excellent grip on their laptop or desktop computer. It is fitted with BlueTrack Technology which enables it to work on almost any surface even on glass surfaces. To enhance the user's comfort level, Microsoft has fitted the device with ergonomic design making use effortless. It is an affordable wireless mouse. It is lightweight, measuring just 95g, and has a Nano Transceiver that stores inside the mouse for easy portability.
Microsoft Mobile Memory Mouse 8000 – Singapore's Cheapest Wireless Mouse!
At only $26, this wireless mouse from Microsoft allows both right-handed and left-handed users to use it comfortably without worrying about its design since it is ambidextrous. This affordable wireless mouse from Microsoft is fitted with a BlueTrack Technology that enables it to work on almost any surface. It comes with a Nano Transceiver and has a button that users can press for switching between different devices.
Bottom line
These are just some of the wireless mouse options available in Singapore. Regardless of your computer's operating system or whether you are a professional gamer or casual user, there is bound to be an option that suits your needs perfectly. Other brands on the market offer affordable wireless mouse with similar features but cost less than $30 so do some research to ensure that you get the perfect product for your needs.