Does a Slow Mac make you angry? If yes, you are not the only one! In this article you will learn 5 tips to improve your Mac's performance.
Top Reasons Your Mac Slows Down
Any Mac starts to slow down over time. Whether it's a MacBook Pro, iMac or Macmini, it doesn't matter, now and then it will be slow. But don't worry, this is perfectly acceptable.
In this tutorial we will show you 5 tips to improve performance and make your Mac faster. Some tips work better than others (depending on your Mac model), but we'll show you them all here so you can decide which ones to use to turn a slow Mac into a faster Mac.
Below are some reasons why your Mac can slow down:
Storage of unnecessary applications, files and data;
Cache records and contents;
Desktop full of files;
HD with too much data;
Lack of preventive maintenance
How do I solve my problem?
The best way to improve the performance of a Slow Mac is formatting, the problem is that this can directly affect your productivity, especially if you use it at work. Not to mention the work it takes, because before formatting your Mac you need to back up , erase the disk, install the new system and only then bring your backup back.
Also read:  How to Set Up the Touch Bar on Your New MacBook Pro
The reason is that formatting completely cleans the computer's hard drive, preparing it for a new operating system installation, so use this feature only in case of extreme need. If you don't want to go to the trouble of formatting your Mac, no problem, in this article we'll teach you  5 tips to improve Slow Mac performance.
Close Unnecessary Programs and Processes
When too many things are running in the background, the Apple computer can't even handle simple tasks. As this is one of the main reasons that slow down a Mac, it is ideal to close unnecessary programs and/or processes whenever you find it difficult to use your Mac.
To find out what programs and processes are running in the background , you can use the "Activity Monitor" application, a standard application developed by Apple that works as a kind of Windows Task Manager.
You can open Activity Monitor to view all the programs and processes that are running on your Apple computer. To start Activity Monitor , press Command + Space to open the Spotlight search, type Activity Monitor and press Enter. You can also open it by accessing it from the Applications/Utilities folder.
Click on the "% CPU" header to sort by CPU usage and see which applications and processes are running using the most processing power. In some cases, there may be a single application running out of control using 99% of the CPU,  which ends up making your Mac very slow. To force a process to close, select it by clicking on it and click the X button on the toolbar.
You can also close applications running in the background directly on the Mac Dock. To do this, just find the icon with the little black dot below it, then click and hold with the mouse cursor to close the application.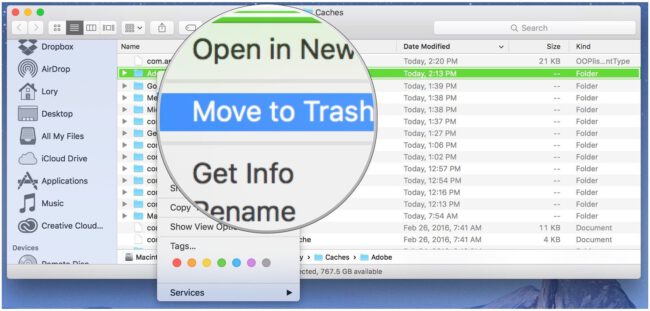 Delete Unnecessary Files and Folders
Nothing slows down a Mac than having a lot on HD. If you can alleviate the excess data on your Mac's hard drive, you'll see a speed boost right away. Certainly, the storage in excess of applications and unnecessary files is one of the most common causes of slow Mac.
This is because depending on the amount, the space occupied on the hard drive or SSD can directly affect the processing of your Mac, hindering the system from finding the files you need to run 100%.
The solution in this case is to clean the Mac's HD and free up space for the system to "run lighter". Unfortunately, this isn't as easy as it sounds. The only part we find really easy is getting rid of your old movies, organizing your desktop and deleting very large and heavy files, the ones you no longer need.
The hardest part is cleaning up the system and figuring out everything that can be safely removed for more space . The best option is to use a cleaning tool, such as  CleanMyMac, which cleans the entire Mac, taking care of both the easy and the hard parts.
It knows what and where to clean, and it's incredibly safe to use. It removes caches, registries, language packs and more to help speed up your Mac.
Clean Startup Items
It's always worth remembering that a clean boot goes a long way in speeding up a slow Mac. When the Mac turns on faster, it takes less time to do whatever task is requested. You hardly need to wait for Safari or Mail to open — it happens almost instantly. But how to get that speed with your Mac? When you turn on your Apple computer, it opens several apps, which may be unnecessary at the beginning of your work with the system.
On Mac you can configure so that when you start the system, apps you use frequently are also started… or not!  This is a fantastic feature, but depending on your computer it can be a thorn in your side. It is recommended to always  leave the boot clean , that is, when you turn on your Mac only the basics, such as system and resources such as wi-fi will be started.
Disable items that start with the system. See below how to disable start items on your Mac:
Click on  Apple Menu  then  System Preferences.
Now click on Users and Groups.
Then click on your username, then Start Items. Here select the items you don't want to open when you turn on the system, then click the little minus sign (-) to delete them. Remember to unlock the small padlock, located in the lower left corner of the window:
Reset your Slow Mac's NVRAM
Going for a more hardcore action we recommend resetting the NVRAM or PRAM , which resets what Apple calls "non-volatile random access memory" and "Parameter RAM" respectively. Okay, I know from a layman's point of view, all of this can seem complex. But don't worry, we'll help you understand 🙂
The NVRAM is responsible for storing system settings , which can be accessed quickly by your Mac system. Some settings that can be stored in NVRAM of your Mac including the sound volume, time zone information and to which disk your computer will use to load the system. PRAM stores similar information to NVRAM, what can change is the models of Macs that support them.
Also read:  7 Biggest iPhone 8 Problems and How to Fix Them
Use Third Party Software
If you don't have the time (and the inclination) to spend a few hours trying to get your Mac faster, you might want to turn to software that can save you all the manual work. We've already tested several of these self-styled "Mac cleaners" and CleanMyMac was the only one we approved. It's the best way to speed up a Mac, even if it's an old one. One of its main speed features combats system slowdowns, in addition to:
Disable crashed apps;
Free RAM memory with one click;
Uninstall unnecessary apps and malware;
Disable high memory consumers;
Run macOS maintenance scripts;
Disable extra starter items and more.